Overall Garden Design is important, but it is individual features that make a garden special.
Major structural decisions, such as the type of paving to use, the shape of the lawn, or how to define the boundaries, have a significant impact. But even small details like ornaments and garden lights can lift a small garden above the ordinary.

The use of containers is especially important in a small garden – on a tiny balcony they may be the garden. Use them imaginatively, choosing containers that are decorative, and grouping them for added interest.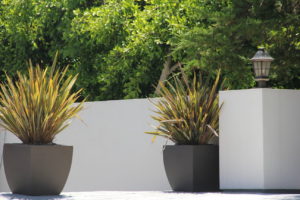 They are especially useful in a small garden because they bring life and color, or just subtle shades of green, to corners that might otherwise remain bare. By hanging interesting or colorful containers on bleak walls, by using them alongside the steps to a basement garden, or simply using tubs by the front door, containers make the most of all the available space.
There are so many options of containers in the market. But you can also be creative and use kitchen utensils such as pots and pans as containers…
Garden Design, landscape designer Los Angeles, will suggest to customers to add containers to the project – adding color and beauty is always a plus.