In Southern California outdoor kitchens are very popular, since the outdoor living is a reality all year. So investing more in the outdoor dining makes good sense because cooking and eating outdoors is just plain FUN.
The first decision Garden Design makes is whether to place the kitchen against the house or some distance away in the yard.
An outdoor kitchen that is near or attached to the house may borrow overhead protection from the house.
Installation is much easier if you can simply run electrical and plumbing lines through a shared wall.
An outdoor kitchen located away from the house can be an enchanting retreat. However, installing electrical and plumbing lines may be difficult.
An overhead structure is an integral part of most outdoor kitchen designs.
An overhead can often be built later, after the kitchen is finished and you know just where you need shade.
But, of course it is usually easier to create the structure from the beginning – st the posts and basic framing while the kitchen is being built.
Once you have determined the types of cooking you want to do outdoors, consider the maximum number of people you will cook for on any given occasion. Garden Design, as a landscape designer Los Angeles, will guide you (design and plan), making sure that your cooking center can handle the quantity of food and the required preparation, and that your entertaining area can comfortably accommodate your guests.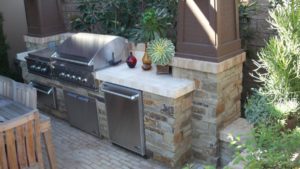 Homeowners have long appreciated the benefits of cooking, dining, and entertaining outdoors.
With fresh air and the sounds of nature, people find life's stresses tend to melt away and the prospect of good food becomes the only concern.