Exceptional

Services We Offer

We provide exceptional landscaping services to a wide range of commercial and residential properties for 10 years.
Our experienced landscapers set the standard each day in landscape design, paving, hardscaping. We will whip your yard into shape in no time.
Residential & commercial.
Hardscape
Hardscape materials include those used to build the no-changing structure of the landscape. They include natural and manufactured stone; wood; and others.
Good

Design Is The Key To A Successful Garden
Project

Galleries

With so many years of experience in the business, our company is your
source for the highest quality and landscaping service.
Landscape design is the art of arranging or modifying the features of a landscape for aesthetic or practical purposes.
A successful yard does not simply happen for a Landscape designer, or a Landscape architect, or a Landscape contractor.
Design is the starting point, with the analysis and creative ability not only to organize the garden to accept what you want within the boundaries, but also to absorb and embrace what lies beyond.
The problem so often is while we are comfortable planning rooms inside the home, more often than not we lose our way outside. The style of the garden in your home is up to you. It may be a contemporary extension of the most modern architecture or a soft, sensual and sinuous place winding between narrow boundaries.
For Garden Design and Landscapes, located in Los Angeles, a yard can be so much more than grass.
Well planned landscaping, created by our department Landscape design, unites indoor and outdoor spaces, resolves yard and garden problems, and provides creative opportunities to relax and have fun.
Latest

News More News

There are several factors that stood fundamental when it comes to increasing the liveliness and value of your sweet...

Read Post

While a large property certainly has its advantages, even a small outdoor space can really enhance your lifestyle and...

Read Post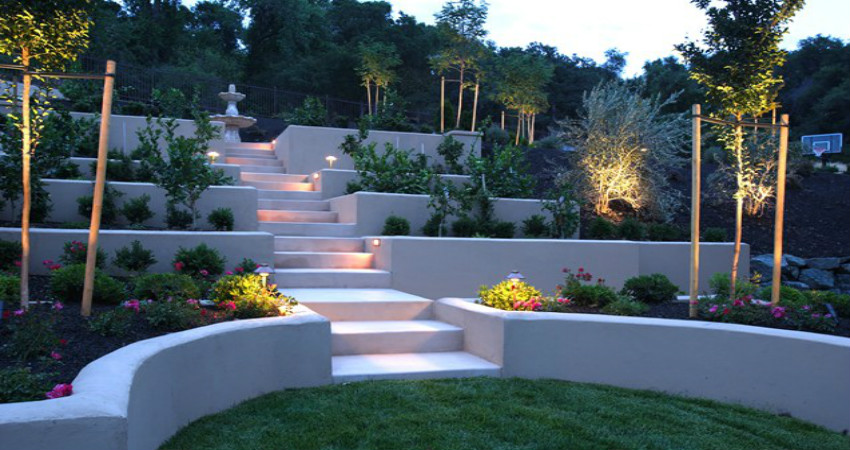 A street side slope is on public view, it should make a favorable impression. But good looks alone aren't enough...
Read Post
"Garden Design transformed my backyard... it looks amazing!". Paula did a wonderful job of facilitating everything I hoped for, as well as expanding on my ideas to make the yard look even better than what I had imagined. She was able to fulfill my wishes while trying to stay within my budget. I loved that she was easily reachable whenever I had questions along the way. We are so HAPPY with the transformation. Now we are spending more time outdoors then indoors. Thank you, Garden Design!
Lina Ellner
Los Angeles, CA
We are one fortunate client of Paula Castro. With Paula's creative talent and her attention to detail, she was able to fashion an exciting, attractive backyard setting for a large wedding. Paula has an engineer's eye for design. We are pleased to recommend Paula Castro and her crew to you as a planner and builder of exquisite gardens.
Evelyn Moyer
Los Angeles, CA
I had a wonderful experience working with Garden Design. They will definitely work with you to get your project within your budget. Along with that, I was pleased with the efficiency of the project progress and completion. My neighbors were impressed how quickly it was done as well. Huge thanks to Garden Design crew and specially Paula for amazing design for my front and back yards. My friends are now asking me for your contacts after they seen the design. I'd love to recommend you to everyone...
Chantal Coussy
Los Angeles, CA
I hired Garden Design to do the landscaping for my new home in both the front and backyard. They kept within my budget & understood my vision for a Mediterranean look. I highly recommend Garden Design & Landscapes!
Kelly Croteau
Los Angeles, CA
Landscaping

Awards

With so many years of experience in the business, our company is your source for the highest quality and landscaping service.